Friday, December 03, 2004
24 Season Four Trailer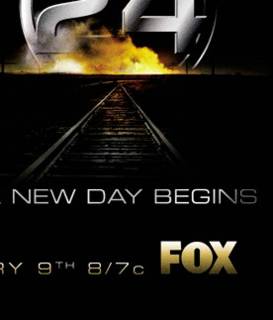 24- Season Four: The new trailer is up in several versions
here
, and from the looks of things, Fox threw some of that money they saved by canning the cast into the FX and production departments. I'm still kind of pissed that we lose Reiko Aylesworth, Carlos Bernard and Dennis Haysbert... or at least appear to, anyway. But then again, there's only so many insidious conspiracies the same characters, from various agencies and plot-devices, could conceivably be intangled in, even on a preposterous show like 24. That all said, the trailer looks pretty good. And look, whatsername!
We do know that ole Treasonous Tony Almeida does appear in a few episodes, so hopefully they use the reference to the past to good effect... like those infrequent but rad pop-ins by Mandy the sexy assassin (Mia Kirschner)...unfortunately, no word yet on Reiko's involvement, nor Palmers... all we know from the trailer is that Craptastic Chloe is still stinking up the joint.
Granted, I haven't delved too deeply into the rumormill, because I I'm a robot that likes a surprise or two. Here's the official press release, whcih tells you everything you need toknow:
Season four begins 18 months after the third season, with the episode "Day 4: 7:00 am - 8:00 am." CTU is now headed by Erin Driscoll (Alberta Watson, LA FEMME NIKITA), a steely government agent who made firing Jack one of her first priorities upon taking over. After the explosion of a commuter train, Jack, who is now working for Secretary of Defense James Heller (William Devane, KNOTS LANDING) and also is romantically involved with his married daughter, Audrey (Kim Raver, THIRD WATCH), suddenly finds himself heading back to CTU for a meeting with Driscoll on Heller's behalf. Also featured will be Nestor Serrano (THE DAY AFTER TOMORROW) as Middle Eastern businessman Navi Araz, Oscar-nominated actress Shohreh Aghdashloo (THE HOUSE OF SAND AND FOG) as his wife, Dina, and Jonathan Ahdout (THE HOUSE OF SAND AND FOG) as their son, Behrooz.
:::
On another note, I still am a jealous robot that UK viewers got to
see
two seasons worth of Pure 24, the post-game wrap-up with cool guest reviewers like secret service guys or whatever. how cool is that. That's a network (BBC) that took their 24 seriously... before they walked away from it due to cost issues, leaving the Brits in the lurch with not only no Pure 24, but SKY as the new home for the show.
:::
And on another note, aside from the new faces visible in the preview, and the rather obvious Presidential defeat of Palmer, as evidenced by his rival in the White House (and the hot seat,) apparently Angela Goethals has also been cast for the season, in an undisclosed role, that we can hope involves either black lingerie or frequent veiled references to her famous ancestor, of Panama Canal non-fame.
:::
Posters at IMDB.com's message board are all worked up over the supposed "lackluster new season" described in
this
article. That's pretty funny, actually.
So says...Wrongrobot!